Kids & Teens in the Bärenwirt Aich near Schladming!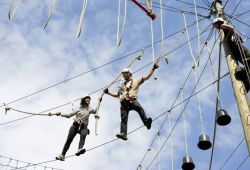 You will find lots of action in the sports and family hotel Bärenwirt! Chill out party, fishing in the pond or in the trout creek, horse riding, American Indian day, visit to the queen bee, canoeing taster course,"Bears" Triathlon, Sports Olympiad, disco in the parent-free zone, football field with bands, volleyball, children's table, basketball, tennis, children's tennis court, bonfire with barbecue, pasture rally, petting zoo, indoor and outdoor playground, bicycles, tractor ride – we are sure that you will not be bored in the Bärenwirt. Splash! Pack your swimsuit! Water fun in the hotel pool with adjoining lake and water trampoline; or in the indoor pool in Schladming with a giant slide, or in the outdoor pool in Haus. Fun in the parent-free zones, so that mum and dad can relax in the spa area or by the poolside. "We especially enjoy the weather-independent, diverse leisure activities that are being offered". Our regulars appreciate that every year there is something new to discover. Another plus, starting from the first day of your holiday, is the Schladming Dachstein Summer Card, with over a 100 free attractions and more than 80 bonus partners.
Family hiking adventure

After a hearty breakfast we meet our guide Michaela (certified hiking guide), who leads the hiking tour. Michaela will show us the most beautiful places in the great Schladming Dachstein region. The packed snack is included and is prepared for you in our kitchen!